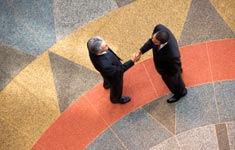 With a new business and even established business, it can be a long road before credibility is built. A website can speed up the process.
Credibility can be built with a website in the following ways:
Company history and background-content that describes the history of the company with timelines. Photos, videos, awards, and memberships can be included in the content.
Owner's credentials-a new company may not have much of a history, but often the owner has experience and background related to the new business. Content can include education, experience, awards, testimonials, and more about the owner.
Customer testimonials-the testimonials should be genuine and posted with permission of the satisfied customers.
Acknowledgements-any awards, notable mentions, letters of appreciation, and other positive information about the company.
Reviews-favorable reviews of the company, the owner, or the employees that have been published can be included in the website design.
Prestigious customers-with permission, include the name and logo of any well-known customers on the website.
Articles-published and unpublished articles about the business.
Other ways that a website can contribute to credibility is by presenting a professional image by the design of the website. An easy to navigate website will allow the visitor to learn about the company, the products, and the services that a business has available.
A website with the following can damage credibility:
Poor design
Difficult navigation
Trouble locating
Complicated website address
Poor content
Slow loading
Distorted on some browsers, operating systems, and varied screen resolutions
Hard to locate on the internet
Unattractive color scheme
A small percentage of potential customers will find a business by seeing it as they drive through town. Even those who look in the yellow pages often are using the yellow pages from their computer. Many potential customers are on the Internet searching for the perfect products and services. A business' Internet image is very important to give the image of a credible company that is worthy of the searcher's business.
Contact Karma Snack Digital Marketing Agency Today!
To have a professional-looking website like the ones in Karma Snack's portfolio, go to KarmaSnack.com to find out more about what they can do to promote the credibility of your business with a website.