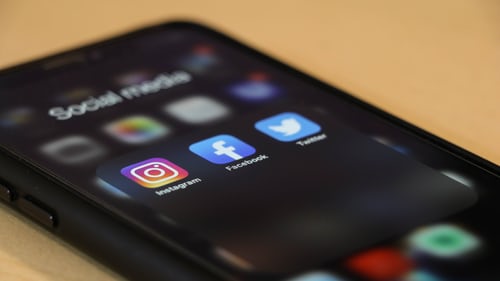 Social Media Marketing
Social media marketing is no longer an option but an essential marketing element to reach potential customers. It's a way to get valuable insights and grow the business.
Across the globe, there are more than 3 billion social media accounts. People are using social media to engage with brands. What's interesting is people are following brands more than they follow celebrities.
80% of people follow at least one business account on Instagram. Furthermore, 81% of people on Instagram use it to research products and services. The statistics directly imply that if you, as a business, are not using social media to the fullest, you are missing out on opportunities. It is an inexpensive, easy, and effective way to reach out to half of the population of the world.
Importance of Social Media Marketing


The importance of social media is far beyond sales and conversions. According to a study by Forbes, 78% of salespeople outsell their peers with the help of social media.
However, most businesses are not aware of the benefits of social media marketing. 50% of small businesses are not promoting their business over social media. While it's an alarming statistic, what's more concerning is, an additional 25% of small businesses are not planning to use social media in the future either.
To diminish the confusion of using social media for your business, we are here with the benefits of social media marketing. Let's dive in!
Increases Brand Awareness
Social media marketing is a digital marketing method that increases business visibility. Effective implementation of its strategy increases your brand awareness and allows a broader audience of consumers to connect with you.
Start with creating your business profiles on various social media platforms and start interacting with your audience. Get some sponsors, employees, and partners to do positive interactions with your profile – hitting 'like' and 'share' on your page.
Just simple interactions, in the beginning, will get your brand exposed to user engagements. Each shared post gets introduced to the network of new individuals that increase the chance of making them potential customers. The more people know about your business, the better revenue you will generate. 91% of marketers claim that investing a few hours a week increases business exposure greatly.
Absolute Vodka achieved a five-point lift in brand awareness by running an Instagram campaign for its limited-edition Spark bottle.
Working consistently on your social media profiles can bring you a large audience for your business. It'll also help in building a reputation for your business.
De-Robotizes Your Brand
A study found that 50 percent of adults do not trust a brand until they get real-world proof of how good the brand is in keeping its promises.
Marketing isn't anymore about selling your products and services. Its definition in the modern-tech world has transformed to maintaining a relationship with your audience. To do so, you need to stop being just a product or service and humanize your brand.
Even though there's a screen between you and your customers, social media platforms help you create a real human connection.
Tell the story of your brand. Introduce your customers to the team working with you. Showcase real faces, real stories, and real emotions on your account. Make your customers know about your brand values and ethics. Share your achievements and special moments with them. In essence, you should create meaningful relationship moments with your customers.
This would help you appear like a human business that is a lot more than a profit-making machine and cares for the emotions of its users. As a result, you'll find your customers choosing you over your competitors. 
Improves Search Engine Rankings
Posting on social media gains you traffic to your business site. But to achieve higher page rankings and drive traffic to the website, seo is vital.
Although social media does not impact the search engine rankings directly, 58% of marketers who are working with social media marketing for 1 year or longer see improvement in their search engine rankings.
Let's face it, nobody navigates past the first page of the search results page. Your competitors will answer the query on the first five results of the first page itself. Therefore, optimize your SERPs by creating quality content that integrates your targeted keywords. 
Increases Inbound Traffic
The inbound traffic of your website remains limited to your usual customers if you do not market your business on social media. It is difficult to reach the customer base outside your circle of loyal customers without any robust social media marketing strategy.
Every piece of content you post on social media is an opportunity to acquire a new customer. It allows you to connect with customers with different backgrounds and behaviors. 
Gateway to Share Your Brand Story
Social media is a great platform for sharing the mission and stories of your brand. Effective stories have a direct impact on the brand image.
It also provides an opportunity to share positive feedback on your product and services. If you have great feedback to share, social media effectively spread your message.  
Develops Customer Loyalty
Nothing could be better than building customer loyalty for free.
Customers follow and interact with the brands they adore. And the interesting fact is 53% of customers who follow you become your loyal customers.
It depicts a direct correlation – If a customer is following you, there are maximum chances that they choose you over your competitors. At the end of the day, you need loyal customers to increase your sales conversions.
Helps You Stay on Top of Your Customer's Mind
Most social media users check their accounts at least once a day, and many of them check social media multiple times. You have the opportunity to connect with your followers and loyal customers every time they open their social media accounts.
If you focus on creating engaging, informative, and entertaining content, they would wait for you to post on social media platforms. Just keep your social media game on point and you'll always be on top of their minds. The minute they need a service of your domain, your name will pop up instantly in their minds.
It is Free (Mostly)!
Social media marketing is one of the most business-friendly marketing strategies. It's affordable and engaging. You don't have to pay for creating social media accounts and posting organic content on them.
For most businesses, the quality of their content is enough to promote their brand. However, you may like to walk the extra mile. To indulge in extensive social media promotion, opt for paid promotions to provide your brand with greater exposure. 
Provides Customer Satisfaction

Social media facilitates a platform to communicate and network with your customers. Create a voice for your brand through social media. Once customers start following you and develop a relationship with you, they'll be more open to sharing their constructive feedback. It's because they know the brand will respond to their feedback personally.
Social media engagements also give you an insight into customer's choices. Pay attention to their comments and shares. Take both the criticism and appreciation similarly and work on the details you feel are important. This would result in customer satisfaction.
Become a Leader
Stay connected, share quality content, communicate with your audience, and promote your brand. Share insightful and quality content. It will create a relationship with your audience that helps you become a notable influencer in your field.
Once your audience starts seeing your brand as an expert, it'll be difficult for your competitors to get ahead of you.
There's a quote that says, "Google only loves you when everyone else loves you first."
Social media marketing is the easiest and cost-free way to make your audience fall in love with your brand. If you kept your business immune to it until now, it's time to change it.
Contact Karma Snack Internet Marketing Company
Get yourself a well-thought social media marketing strategy with Karma Snack and make your business reach new heights!