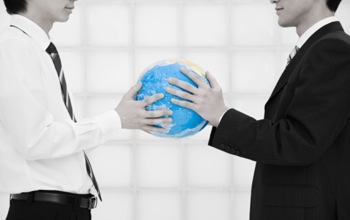 Create a High Converting Landing Page
To maximize the amount of money and leads, make sure you focus on creating the best landing page. A landing page is sometimes called a promotional page, jump page, or squeeze page which is crucial to the success of online business opportunities.
The power of a great landing page

Whenever a web user clicks on the link from a search engine, organic or paid, they are directed to a website or landing page. Irrespective of what tactic you have used, the prime motive of the landing page is to get the internet user to convert or to take any kind of action to the online business you provide.
When it comes to banner advertising, your efforts in creating a great landing page will massively increase your profits. This means the more people you can get to visit on your landing page, the more profit you will likely make in your market. Thus, driving your banner ad traffic to a landing page is one of the most vital things that you should do to make more with the traffic source.
Here is how to create a high converting landing page:
Set a large, clear headline or title
To grab the attention of the visitor, it is necessary to use a large, clear, and relevant headline. Often, professional internet marketers visit different landing pages to check the relevancy of web users.
Since you have a very short period of time to capture the visitor's attention, make sure the title you choose focuses on your target audience. One of the most powerful approaches is to appeal to your audience's emotions. Thus, go with the headline that reinforces the strongest benefit of the product or service in order to be effective.
Provide visuals
To get quick information, do not expect your users to trail through mountains of text to find it. Indeed, "A Picture is worth a thousand words", applies well to internet marketing opportunities. Providing the required information in the form of clear images or videos will spread the message quickly and with less effort too.
Thus, make sure to create a landing page that integrates images, and visuals into the provided text. For better appearance, try to present the visuals in more colors, diagrams, or even screenshots.
Testimonials
Providing testimonials is a great way to assure the visitor that the service or product you provide is reputable. In today's competitive world of business, no one prefers buying a product or service without checking its reviews. This is common that users prefer buying on recommendations and this applies specifically to online business opportunities.
Such testimonials minimize the fear that the audience may have about your product or service and even gives credibility. To better present testimonials, you can add a photo, quote, audio, or even video; this will help to win the user's trust.
Call to action
Don't forget to provide your name and contact information so that your audience can stay in touch with you if they have any questions or concerns. This is also a great way to win the trust and build a relationship with your audience which is so required throughout the sales process.
Try to give super clear and simple instructions to your users. Would you like your users to enter the email or simply click on the link or button? Explain your audience in the simplest language possible. To go further, give your audience the reasons why they should use your service. This will enhance the response rate.
Target the right audience
Find out what type of users you want to attract with your landing page. Creating a landing page for everyone will affect your conversions. Once you know your targeted audience, you will be able to create a page that attracts a specific type of prospect only.
Split testing
When it comes to getting more responses on your squeeze page, the simplest approach to get more actions from your users is to test different versions of the pages that you are using.
With every landing page, you create, you have to create another one also but with a slight variation in the title, subheadings, benefits or place your sign-up box in another place.
Out of the two landing pages you created, find out which version gives the better response rate. Once you get an idea, you can remove the low-performing page and then again create another one with better response rates. This is how you can create pages that have 50% sign-up rates.
Customer's privacy
Try to provide a statement describing the privacy and security measure you have taken to safeguard the visitor's personal information. Identity theft and fraudulent activities have made users conscious of the significance of protecting vital information. Failing to recognize the importance may lead to losing subscribers you would have otherwise.
Drive traffic

At the end of the process, what you need to do is to drive traffic to the landing page and see what type of users reach most to your service. if you observe a specific source of traffic towards your landing page, then shift your focus more to that area. The more traffic you will start getting to your web page, the quicker you will be able to create a high-converting landing page.
Having a fully-functional and highly converting landing page does not happen by accident. It is required to construct an opt-in page that will further build the targeted email list by the internet marketers on the web.
You can start off with creating a basic page that includes the above steps and then can test the page for different headlines and images. This will ensure that your online business opportunities continue to grow.
Karma Snack, a reliable digital marketing service provider in Miami, FL can help you get instantly more traffic, sales, and profits by creating a high-converting landing page. Visit https://karmasnack.com/ to know more about our services or simply contact our experts at + 1 844-623-2299!