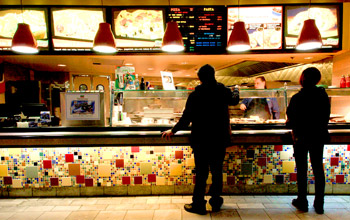 The obvious impact of the Internet on customers is the ease in which to order products and services. Information on a business, product, or service is also easy to obtain on the Internet. The impact goes further than the obvious when it comes to the Internet, business, and customers. Many companies from Lego to Google, all understand the impact that the Internet has on their customers goes beyond sales and presenting the information.
NETWORKING OF CUSTOMERS
The Lego Company uses the Internet to get its enthusiasts together. As they gather to discuss Legos, the word of Legos spreads, ideas are shared, and information is exchanged. Customers are impacted in a bigger way because they are receiving the information directly from their peers instead of from a commercial created by a biased corporation.
ADVERTISING OPTIONS
Advertisements have been impacted by the introduction of Google's Adwords and Adsense. Google receives money to put up a business' ads (Adwords) and with Adsense, millions of websites put up the ads at no cost to Google. When an ad gets clicked on, Google pays the owner of the website. This helps out the website owner also because they don't have to pay to put up the relevant ads and receive an income from it. This also provides a service to their visitors because it makes other related sites easily accessible. Newspaper ads, radio ads, and TV ads all take a back seat to Internet advertising. Customers have access to more targeted sites and information on them.
RESEARCH CAPABILITIES
No longer are customers limited to what a salesperson has to say about a product or rely on the people they know to make a recommendation regarding a product. Customers can get online and find out about a product from an unlimited number of individuals and sites from all over the world! This also allows customers to compare prices from different sources so they can get the best price available.
ANYWHERE ANYTIME
Customers want access to information wherever they are at any time of day. This means businesses must have an Internet presence to be successful. The websites must look good no matter if they are accessed on a desktop computer, mini laptop, or on a phone. There are a large number of search engines that customers utilize, page one of Google searches isn't enough. Access to the Internet is done through Internet Explorer, Firefox, and many others that are now available, so a website needs to be designed to look good consistently and on each one. Customers look to the Internet from everywhere and at all times.
Even established businesses with professionally designed websites, are finding themselves falling behind. Their websites aren't consistent in appearance and the website no longer holds prime positions for keyword searches. Some companies have people on staff that can update their websites, but most companies choose the experience and expertise of an Internet marketing company like Karma Snack that is located in Miami, FL. For a list of the best of the best internet marketing companies click here.