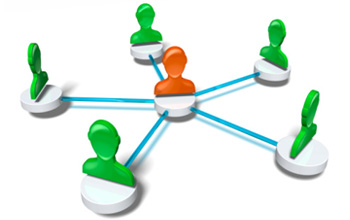 It won't matter what you post on a social network if it isn't the right social network for your company. So before you worry about anything else when it comes to getting noticed on social networks, make sure the social network you choose is going to reach your targeted audience. There are personal and business social networks, so you will need to choose which ones will be best. Once you find the social networks that your target audience is using, you can then proceed to get noticed on them.
Be active at the beginning-just be contribute and get some posts up. Let people get to know you a little bit
Tell your story in a creative way – social networking is about being more personal and informal, share interesting stories and be creative.
Share what you know-give it up and give it away for free, you don't have to reveal your deepest secrets when it comes to success or an area of expertise, but post useful information and helpful hints.
Use well known names-if you can't get a personal interview to a well known name in the industry, write a great post and link to further information.
Make a list or two-when making a list, avoid the common numbers like top 10, instead have a more unusual number like 4 or 9 items in your list.
Pick a controversial subject and comment on it-be honest and sincere in your comments and the side you choose to take.
Become a fan and join groups within in the social networks-you will have access to more of your targeted audiences in smaller groups and in fan groups.
Write eye catching headlines that don't disappoint-the post doesn't have to be long, but it should deliver what the headline promises and not be a tease.
Feed selfishness-your audience will want to know what is in for them, what they get out of the deal, make it as appealing as possible.
Document-if you have the facts, tell where they came from to reinforce your credibility.
You can break into social media yourself or you can hire an Internet marketing company, like Karma Snack that can coordinate your social media marketing with other Internet marketing services. Contact one of the experienced staff members today.