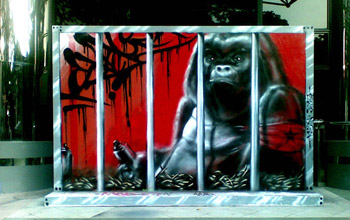 The history of guerilla marketing began in a jungle far…far…far away from where two playful guerillas lived. They met each other and mated, which resulted in the gorilla that we have here today. He was a happy guerilla and then one day the humans… OOOPS wrong story!!! Ok, that is not how guerilla marketing began! Here is the real story of guerilla marketing's history as an Internet marketing Strategy.
Guerilla marketing is fairly new. With social networking, a video of an unconventional marketing tactic can spread like wildfire, or more accurately, like a virus. Guerilla marketing is a viral marketing method. Here is a little history of advertising and how guerilla marketing fits in.
1940's to 1950s
The target audience was educated on the benefits of a product or service. It was done through printed media (newspapers, magazines, posters), television, and radio.
1960's to 1970s
Audiences were recognizing a sales pitch, especially a false one, and the effectiveness of advertisements that educated the audience, steadily dropped over the years. Advertisers started to entertain their audiences and subtly adding the sales pitch.
The 1980s–1990s
Though a few dabbled with guerilla marketing, it wasn't well known until Jay Conrad Levinson's book was published, Guerilla Marketing. It compiled the secrets of getting big advertising results with little or no investment of money. Small businesses took the ideas and started running and they still haven't stopped running!
2000's to present
Social networking and advances in technology made sharing outlandish, creative, and shocking advertisements easy. Also, those who are sharing a picture, video, link, or story don't need to be put on the payroll…there is no investment from the business that uses Guerilla Marketing. The results are, not only does the business, service, or product get added attention at the location of the ad or tactic, but a good guerilla marketing idea will spread virally also, which increases its effectiveness.
To hire an Internet marketing company that understands guerilla marketing and has experience with successful guerilla marketing campaigns, contact Karma Snack Internet Marketing Company today.