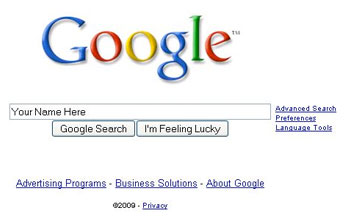 Whether you like it or not, your Internet presence has a lot to do with what others think of your brand.  Of course, it is important to be found online today because otherwise you won't be able to compete with those people who can be found. When you Google yourself, do you find that those who are talking about your company are on the first pages or is your website on the first pages. The other thing to look for is to see if the information about your business, products, or services is positive or negative. If it is good, you will want to maintain that and build on it. If it is bad, then it will be time for some reputation management to repair that and get some customer feedback to see what changes need to be made.
What Self-Googling Is All About
Most Internet gurus will tell you that self-Googling isn't something that is done for vanity's sake.  It is actually something that you should do as a part of smart brand management.  There have even been some surveys done about this type of brand management activity. According to these surveys 77% of people are now using the search engines to learn more about a brand before they ever make a purchase from that brand.  This is mainly being done via either Google or Yahoo. These same surveys have also shown that 35% of these people who have done such searches have actually eliminated a brand from consideration due to the information that they have found online. This number is actually showing significant growth each year too.
What Is Ultimately Required
Ultimately, you need to have relevant content that reinforces your brand, product, services, company, etc.  You will want to have this content be found on page one of Google. This way whenever someone searches for your name, they will be able to find you easily. The more links to your website that you have that mention the product or service that you provide the better. Articles written and submitted to article directories about the product or service you're your company offers with a link to your Internet business, will successfully do this.
Building Your Personal Brand
Building your personal brand will assure when you self-Google, you will like the results. If you are able to use article directories that get a lot of traffic to your advantage, you will be able to build and reinforce your personal brand in a quick, direct way.  Of course, you will want to make sure that these directories are posting a lot of new traffic every day so that you can be sure that it will be both consistent and ongoing. Two such websites are EzineArticles and Academy. Branding is important to any business, especially an Internet business.
To improve your brand, manage your reputation, get customer feedback, and more, you can contact Karma Snack Internet Marketing Company. They have the experience and the skills needed to successfully take your website to the first pages of the searches. Karma Snack can also help make sure your brand and reputation is positive.