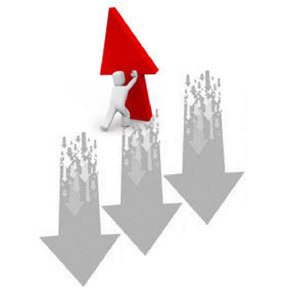 As things continue to spiral, consumers' online spending habits also changed quickly. Many consumers stopped spending altogether. At the same time, the number of shoppers spending $1,000 or more per trip plummeted.
A lot of retailers are looking for small technology investments that produce big results – Analytics and SEO are some of those things. U.S. retailers increased their overall IT budgets by 8% in 2008, after a 2% increase a year earlier, according to a recent report from AMR Research and the National Retail Federation.
Of more than 125 retailers surveyed last year, 59% invested in new systems or upgrades in customer relationship management, a category that includes analytics.
While analytics may not be able to save a failing company, they may at least help with the tough decisions that accompany a downsizing rather than just closing stores that have the worst sales, companies can analyze data obtained from customer loyalty cards and other programs to determine which stores are being most affected by customers, who make inconsistent purchases, jump at coupons, or frequently return products.
From there, the stores can make better decisions about how to tailor sales, coupons, and other promotions. You still need to make smarter decisions in spend online.
I suggest going back over your online campaigns and A/B split test every one of them. It can allow you to generate large amounts of data without expensive software or upgrades. You can see the results as they unfold.
Change call to action button colors, test your ad copy and more importantly know where your visitors are coming from.
Analytics had a tangible result at Best Buy, which introduced the free financing offer in November. The following month, Best Buy reported that the Omniture system had helped create tens of millions of dollars in profits.
As ad dollars become more precious, we all have to be smarter. Bottom line one of the ways companies can win in this new game is to understand your customers better than anyone else.
Take a look at these important factors
1.    Time on site (How long a visitor is on your website)
2.    Time on page (How long a visitor is on a particular page)
3.    Bounce rate (Bounce rate is the percentage of single-page visits or visits in which the person left your site from the entrance (landing) page.
The important thing to remember is you're not alone. Google has resources available to help improve your site's performance. It's important to remember when starting an Internet marketing campaign, that you should check your site's performance weekly. You can always call Karma Snack and we will gladly install analytics free for your website.