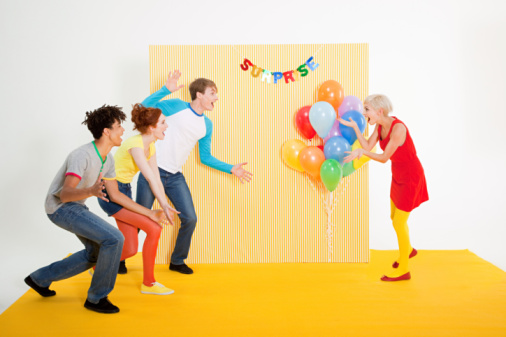 You work hard on your Internet business, you have a great Internet marketing company, and your product is in demand. There are two kids of surprises that can happen in this situation. One is desirable and one is not.
UNDESIRABLE SURPRISE WITH INTERNET MARKETING
One surprise option is that the site isn't getting the expected visitors and the sales are slow or non-existent. This is like going to a surprise party that the guest of honor finds out ahead of time about the party. Everyone is dressed up, the decorations are hung, the cake is frosted, and the guests have arrived. Everything is ready for the perfect surprise, but then, right before the guest of honor arrives, you get a text from the person who is in charge of bringing him or her, that the guest of honor knows about the party. You could experience that same let down when you don't have visitors to a website that has the following:
Professionally designed website
A website that is easy to navigate
Skilled Internet marketing
Great content
Ordering and shopping cart are easy to use
Selling a great product
There are a few things that can go wrong and cause the website to not be as successful as expected. One of the things is if the Internet marketing campaign's services are spread out to several different companies and there is no coordination of Internet marketing strategies. Other problems can be that the website isn't optimized for search engines, the content is not targeted to the audience, and a related niche wasn't researched properly.
DESIRABLE SURPRISE WITH INTERNET MARKETING
Another surprise that can happen with websites is that the hard work pays off sooner than expected. This is like going to a surprise birthday party that you are expecting to be small, simple, and you think maybe the guest of honor knows about the party. Once there, you find out the following: the guest of honor had no clue there was a surprise party, the guest of honor is very surprised and very happy, the food is delicious, the decorations are perfect, and everyone that shows up is a lot of fun. The party lasts longer because everyone is having the best time ever! It can be this way with your website and Internet marketing of your business, you do everything right and sit back prepared to wait to see the results, and then you are surprised when leads, sales, and visitors are all growing faster than what was projected.
Some of the reasons that some Internet businesses have the latter surprise include the following:
Timing-sometimes it is just timing. For example, if you sell music-related merchandise and you found a great niche related to Michael Jackson, you could eventually do well in that niche. When Michael Jackson died, which could not have been predicted (timing), the interest in anything to do with Michael Jackson increased tremendously and your niche would be more successful than if that event didn't occur.
Skill level-your in-house marketing or other marketing may have gotten decent results, but you decide to go with a professional and experienced Internet marketing company. Though they told you the results you could expect, you were skeptical. Due to the skill level and knowledge of the new Internet marketing company, the results are as good or better than what was projected by the marketing company.
Thinking outside of the box-when selling the expected in an expected market, the results will be predictable. Sounds as boring as it is and will get boring results. Say you are selling fly-fishing merchandise and you find out through research that the customers are mainly white-collar men with high income. Further research results in two popular publications among white-collar men with high income. When you advertise in those publications (instead of the sports-related or fishing publications), the product will stand out and the results can be surprising.
When you are ready for some surprise results from your Internet marketing, hire an Internet marketing company like Karma Snack. They will coordinate a wide range of Internet marketing services to get results that can be better than you were expecting. Karma Snack can combine what works with the unexpected to get surprising results from an Internet marketing campaign.