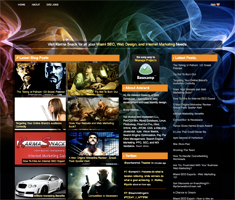 Businesses are different and a business' website should reflect the unique quality and needs of the business it represents. Karma Snack knows that cookie-cutter web design and site aren't going to meet the individual and unique needs of every business. There are different types of websites and within each type of website, the design should be both unique and meet the specific needs of the company and their website visitors.
These are some of the types of websites that businesses can choose from.
Professional website design
Business website design
Ecommerce web design
W3 accessible web design
Professional website design will make a company's first impression with visitors a positive one. A professional design will initiate a connection that is beneficial to both the business and the client. A website design that is plain, common, and has a lackluster appearance will often be passed over. A website design that is filled with flash images and other distracting over the top design elements, can be overwhelming and distracting to the website visitor.
A business website design is essential to multi-million and billion-dollar industries. Simple website design will simply not meet the needs of high dollar industries or those with the potential to become a high dollar business. The unique needs include having the latest in web technology, a state-of-the-art lead generator, an efficient lead management system, and web development for complex solutions.
An E-commerce website design is a need for businesses selling products, services, and information. Shopping should be easy for customers, a professionally designed E-commerce site will make sure that it is easy for clients to navigate and shop from the website. Every step from looking through the products available to payment to delivery of the product can be a smooth transition for customers on a skillfully designed Ecommerce website. Customer aftercare and customer support are all part of a successful eCommerce website.
W3 website design will make sure that a website makes the transitions needed to keep up with new technologies and competitors. Consumers have options and for websites to be competitive, they must look not only look good on different browsers, multiple operating systems, various screen resolutions, etc, but they must also function smoothly. A W3 website also makes your products, information, and services available to the growing number of people with special needs that are now able to access the Internet through new technologies that are available.
Don't miss out on potential customers, contact Karma Snack for experienced and professional Internet marketing services assistance.