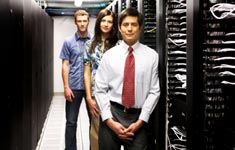 A basic website can be designed easily with a number of free programs, so why hire an Internet marketing company like Karma Snack? One of the reasons is because they are able to develop the applications that will help your website be functional and accessible to all members of your business' team.
Whether the team members are across the hall or across the globe from one another, the website must be user friendly to the team. In addition, the website must be secure, especially if you are collecting private information from customers.
An Internet marketing company that is up to date on current technology and has experience is the one you should trust with the security of your website and customer's information.
The Karma Snack founders have been developing web applications that are customized to individual businesses since 1995. They are up to date on the current threats and how to keep your website safe from attack.
The applications are of high quality and can be designed to do the following:
Store database safely while providing easy access to the business
Fit the needs of most any size of business
Advanced Ajax and web 2.0 embedded usability
Secure access to the database by team members
Efficient and speedy database search
When choosing an Internet marketing company do your research to make sure they will continue to improve and develop better, newer, and faster ways to access your information. You will also want online consultation services to be available as needed.
The company you choose should provide you with reports on the newest technology and enhancements that are available to you so that you are able to not only stay ahead of the competition but also to stay on top.
When you are interviewing a potential Digital marketing company, they should be informative and give you a customized quote for free. If your questions aren't answered during the interviewing, then they probably won't answer your questions when you are their customer. Chose a company that listens and responds when you describe your business needs.
Karma Snack can be contacted to find out more about the website design, marketing, and applications your website will need. Look over their portfolio to see examples of their work.