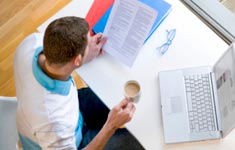 So once you have a great landing page and you have a good amount of traffic, so now what? Just sit back and let the big bucks roll in? No, not yet. To get the money coming in, you will need to convert those visitors into money-spending customers.
An A/B split test will help you to get the high conversion rates that you need to bring in income. This can be done yourself or you can hire an experienced Internet marketing company to do a website A/B split test.
More income sounds good, but you may be wondering exactly how an A/B split test works to do that and what an A/B split test is. A website A/B split test is a way to have your website landing page attract the visitors that are most likely to stay and purchase your service or product. Here is the simple version of how it is done.
A product or service is chosen and a webpage is designed (the control page)
The webpage design is meant to have the visitor head to a page that will lead to a sale
Traffic is generated to the site
An A/B split test is started
One or more versions of the original (control) webpage is designed
When visitors go to the website they will be equally split between the available options, it is done randomly
Results are studied to see which design has the highest conversion rate (number of visitors heading towards the sale page)
The test may be repeated with the webpage with the highest conversion rate being the "control" to see if it still has the highest conversion rate when tested against other landing page designs
It is often time-consuming to do website A/B testing, so this task is often outsourced and an Internet marketing company like Karma Snack is hired to do the work. An experienced marketing team will have a good idea of what works and can move through the steps of A/B testing. When an experienced Internet marketer is working on website A/B testing the control landing page will begin with a high conversion rate so that the test results in the optimal return on investment (ROI). Inexperienced marketers often start out with a low ROI and low conversion rate so, after several tests, they think they are very successful, but have only gotten to the starting point of the experienced internet marketer. When they think they reached the optimal percentages the testing stops.
Even successful high converting landing pages benefit from A/B testing. The Internet is in constant change and websites must keep up. You may find that you have the best design after an A/B test, but to know for sure, the test must be done. Guessing won't increase or maintain your income; experienced scientific testing has the potential to increase the income from the site with high conversion rates.
Are you ready to increase your conversion rate? Do you want a higher ROI? Talk to the experts at Karma Snack and get a free website analysis. To see the type of work they do, go to Karma Snack's portfolio.