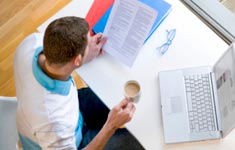 Website split testing is defined as the process of showing two or more versions of the same page so that you can see the difference in results.  It is also known a multivariate testing. An example of split testing: you may opt to split test two different sales letters in order to see where you will get the most sales.  You could also split test numerous banner advertisements in order to see which one will generate the most clicks. Split testing can make sure you are optimizing the income potential of your website. It isn't a one-time test. This test will need to be repeated due to changes in the market and with search engines. Occasional re-testing will assure you are constantly on top of the best options for bringing in income from your Internet business.
What Split Testing Can Do For You
The scientific process of split testing will help you to increase the response rate of your website.  In turn this will help to increase your profits that your website generates without increasing the amount of traffic. The following can be learned from split testing:
The design that results in the most sales
The form that is filled out the most often
The type of website that keeps visitors attention
The product that sells the best
Manual Split Testing
There are numerous ways in which you can do split testing.  One very simple way in which to do it is by creating two copies of the page that you want to test and then use some JavaScript or PHP in order to rotate these two pages.  You can find a lot of free code snippets online that will allow you to do this.  However, this method makes it difficult to track results and may even make it difficult for the search engines to determine precisely how your website should be indexed. Having an experienced marketer can track results and make sure the search engine ranking won't be affected.
Split Testing Applications
Another way to do split testing is by using an application that a lot of webmasters use.  This will increase the amount of control that you have over the tests and the clarity of the results that you receive. Not every application will deliver the results that they promise so make sure you know what you are using.
Google Website Optimizer
The most popular option for static websites is the Google Website Optimizer. This will allow you to test multiple options. This is popular for Internet Business owners that want to do it themselves, but it may not be as affective as having the different designs and testing all coordinated by an Internet marketing company.
Split Testing With WordPress
If you are using WordPress, then you should know that adding some code to this program could be troublesome.  However, there is a plugin, which is known as WP Split Tester.  This plugin will allow you to split test your affiliate advertisements, any pre-sales that you make, your sales pages and other such information. Someone doing it themselves may choose to get some help.
When you want to start split testing and want professional help, contact the experts at Karma Snack, Digital Marketing Company. They have the experience to make the changes needed and to coordinate marketing services to make sure your Internet business reaches its potential for income generating.