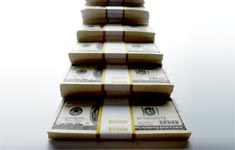 Sales drop in good and bad economies even when the company has a great product or much needed service. It seems like some companies are still doing well and they attribute it to their website. There are even websites that don't offer a product or service and money and the website still generates income. To some who have little experience with the income possibilities on the Internet, it may still seem hard to understand how income is generated from a website.
When sales are down, the money can still come in from other sources on the website. These are some of the sources that bring in income from a website:
AFFILIATES
Getting paid a flat fee or a percentage for leads or sales directly related to ads, reviews, or content from the website is a way to make money with a website. There is a wide range of products and services to choose from. There is everything from online education to pet insurance to products from well-known stores.
DONATIONS
A simple donation payment button is put up. This works best for information sites that are providing free services and information in addition to a paid product or service. A donation button can be added to the bottom of an informative article or on a sidebar. Donations can be done in creative ways like "If you found the information helpful, please buy me a beer/cigar/dinner/etc". The donation button will be the equivalent of that item.
ADVERTISEMENTS
When a website has a high number of visitors, a complementary (not competing) business will pay a monthly fee to display their ads on a successful website in hopes of getting business from a targeted audience. Space for banners on the website can be sold. Contextual (Google Adsense, Yahoo Publisher Network, etc.) ads scan the text of an article and then will use the keywords in the article to decide its topic. Then relevant ads to the readers will show up. The website owner will earn money when their visitors visit the sites on the ads. Text links are another way to earn money on a website through advertising.
PREMIUM SECTIONS
Have quality content available for free and the remainder of the information available through a premium section that charges a fee. This will work with established and well-known authorities on a subject.
PRIVATE FORUMS
An established well-known forum can charge as much as a hundred dollars a month so that members are able to interact with successful like-minded individuals. Some lower-cost paid forums have a large amount of paid members because it is affordable and still offers good information and offers to its members.
Before a website will bring in income, it will need traffic. Those visitors to the website will need to be interested in the product or service being offered and interested in buying a service or product. A good Internet marketing company will have a team of experienced marketers that know how to bring in the traffic and then turn those visitors into customers. That takes a combination of the following:
• Web design that is eye-catching, conveys a true image of the company and is easy to navigate
• SEO – search engine optimizing so that the potential customers will find the website quickly and easily
• Relevant ads, content, and offers
• Targeted traffic that is interested in buying a product or service
• A good niche
An Internet marketing company, like Karma Snack, is well worth the cost because their experience an skill can increase the amount of income as well as reduce the time it takes a website to be profitable even if sales of a product or service are down. Contact KarmaSnack.com today for more information on how to make your website profitable.