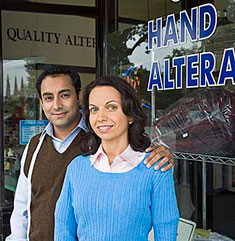 Proactive Marketing
Marketing during a recession can very crucial for several online businesses. There are several avenues you can take to marketing correctly, reduce your costs, and increase your revenue at the same time. I will touch on 5 areas that an online business can take advantage of to survive and thrive during a recession.
Current Customer Base
You're current and repeat customers are golden here. Not only do most businesses reply to them during peak times, but they now become more crucial during downtime.
An online newsletter is a perfect way to communicate with your customers to keep your brand in their minds and inform them of updates about new products or services you offer. Giving them free information about tips, tricks, and benefits of your products/services that they can take advantage of can help get you great referrals from them as well.
Giving loyalty discounts is also another way to generate additional revenue from your current customer base and give your brand the opportunity be seen as caring and rewarding to customers. These loyalty discounts can also help spread the buzz or viral marketing of your brand to your customer's friends, family, and co-workers.
Courtesy phone calls, email, and communication to customers, not necessarily selling but talking to them asking if they enjoyed your services/products, and if they have any concerns or questions they would like to ask. When I get a customer cares call from a company, especially a small shop it makes me feel like they really care, and put their brand in a good light in my mind.
New Customer Base
New customers can be gained in a variety of ways for a lower cost than you would expect. Advertising on a newsletter list within your industry is one example. Finding an industry newsletter is as simple as typing into Google "(industry) newsletter". Companies looking for sponsors or advertisers will run most of these newsletters. Negotiate with them to see if you can get a better price "due to the economy", etc. If you plan on continually advertising within the group once successful use this to your advantage as well.
Cold Calling Targeted Audience
Cold calling is another way. Now I don't mean calling people from yellow book lists, but gathering a list of potential clients and doing the research necessary to convey to them the benefits your products/services can offer them. Cold calling your targeted audience or demographic is key.
At Karma Snack, we help clients target their demographics correctly by gathering key data from the US Census Bureau, Online demographic databases, and industry sources and provide that information to our clients with a guide on how to best utilize this information.
Craigslist
Craigslist is a great way to gain inbound phone calls, and incoming leads to your business. Simply placing not an advertisement, but specify the exact services you provide for your listings can gain you a huge amount of new FREE customers. There are several tricks to getting more exposure for your lists that we teach within the Karma Snack newsletter we provide to clients – signup to learn more.
Internet Search of Targeted Audience
This falls in line with cold calling, but doing extensive research on your targeted audience, where they search online, what websites they visit, and where they communicate is important to target the gaining new customers. An example: if you are a music artist that needs exposure online, you can tap into where your targeted audience would be like places like Myspace, YouTube, Twitter, and another community-based web 3.0 portals. Find out where your audience is and become an active member there, and interact.
Competition's Customer Base
During a recession businesses do one of two things, increase their marketing or decrease it. The smart successful ones know that the majority of their competition is decreasing their marketing, which opens up the opportunity to gain their marketing share.
In a recession I tell all of my clients, now is when it is time to get strict. Aggressively market to your audience and especially your competition's customer base. Have you seen the Bing versus Google, and it is working. It took Microsoft a few years to come out against Google, but it is almost too late now.
Go strong after your competition, advertise in all the places they used to advertise, expand in places where they where, when the recession is over, you will not only be in top positions, and taking away marketing shares, the competition will be left in the dust.
Current Salesforce
Right now is your perfect opportunity to refocus your brand and your sales team. Update and improve sales material while the times are a little slow. Asking your team what they need, ask for marketing ideas and verticals that your business can go into, and listen. The best ideas I've seen come from within the rankings, since they are on the front lines with customers and clients, and are intimately involved in your business's day-to-day activities. They might see opportunities that management cannot see.
Update and add new case studies and client testimonials for your business. Talking to current clients can open opportunities for conversation not only for repeat business but also referrals.
Expand sales staff and offer them higher commission rates or incentives to help increase your incoming revenue. During a recession, more salespersons are out of work, which is the exact opposite of what should happen. There are great people out there looking for good pay work. During a recession, you need even more people proactively selling for you, and increasing your brand's awareness. Your competition for example might be shedding a sales force that you can pick up, and use to your advantage.
Analyze Your Current Marketing
Make sure you analyze your current marketing efforts and reduce non-performing marketing campaigns. You should always be doing this, but make sure you can justify reducing the campaigns. If you don't have exact numbers on how the return on investment is broken down to a new customer basis like TV, Radio, or Print, get rid of it. The beauty of all online marketing is the ability to view directly how much you are paying for clicks, visitors, content, and basically new clients. The Internet is the most measurable marketing media available to date. TV, radio, print, and others all fall in comparison to measurability and reduction in customer acquisition.
Expand performing online marketing efforts. Since your competition is most likely reducing their marketing, you can get more bang for your buck, and increase your customer bases by expanding your current online marketing efforts. It sounds like going against the grain, but the old saying applies, those who go against the grain reap the biggest rewards.
There are several guerillas and other viral marketing efforts that I will touch on at a later date that you can utilize to increase your business's revenues and marketing share during a recession. Use this time to take away market share while your competition is receding. Once the bounce back happens you will be 5 steps ahead of them with an increased market share and will have made it difficult for your competition to grow as you did.