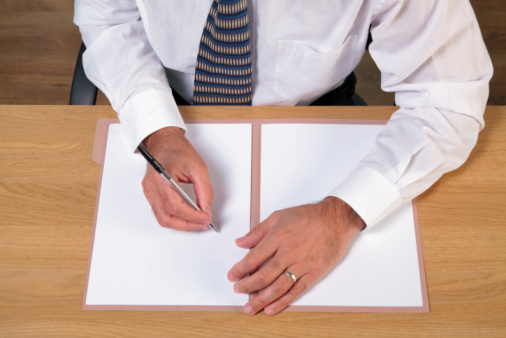 Difference between Copyright and Copywriter
First of all when you are considering if you need a copywriter, don't confuse a copyright and copywriting. There is a big difference. You may not need a copyright, but if you own a business, you probably need a copywriter. A copywriter will help you write everything from ad copy to website content. This is the difference between a copyright and a copywriter:
A copyright is "the legal right granted to an author, composer, playwright, publisher, or distributor to exclusive publication, production, sale, or distribution of a literary, musical, dramatic, or artistic work."
A copywriter is "a person employed to write copy". Copy is text that's used for advertisement, website content, promotion, written account, written record, etc.
When buying copy from a copywriter, you will want to find out if you will own the copy or you are just paying for the right to use it. Ideally, you should buy copy that you own so there are no additional expenses or fees required to use the copy again. That way you can reuse, rewrite, and republish the copy as needed.
There are many reasons that you will need a copywriter if you have a business:
When you have a website, blog, or social site for your business, keeping up with the content can take time away from running your business.
Advertisement copy needs to be worded in a way that potential customers will become interested in the product or service.
Writing takes time and talent, most business owners are busy running their business and that is where their talent is.
Good content can increase your returns because it can be effective in driving sales to your business.
Copywriting is often more affordable than you think, especially when you consider that if you buy copy that you own, it is more cost effective.
A business owner knows their product, service, and business. A copywriter knows the audience who buys products and services from businesses.
Website content needs to be written in a way that it is search engine friendly. Good content can mean that a website is found and pushed to page one while poor content can mean a website stays hidden.
Your competition is probably using a professional copywriter.
You and your staff have other responsibilities that can cause copy for newsletters, advertisements, brochures, ads, articles, etc. to get done hastily and quality sacrificed.
Once you are convinced that you need a copywriter, you will then need to find one to hire. Many copywriters work by the piece, so you will just pay a copywriter when copy is needed. When looking for a copywriter you will want to see samples of his or her work.
Some Internet marketing companies have their own copywriter or copywriting team. They will be responsible for securing the work, paying for the copy, and receiving the copy. The marketing company will then be responsible to put the content on the website, brochure, post on social network, etc. This will allow a business owner to concentrate on what they do best, run their business and employees to fulfill their required job duties.
Karma Snack Internet marketing company offers a variety of marketing services, including copywriting, for any business that wants to market their company on the Internet. From a company's first website to re-branding, Karma Snack can meet almost any business' Internet marketing needs. If you already have a website you can get a free analysis.