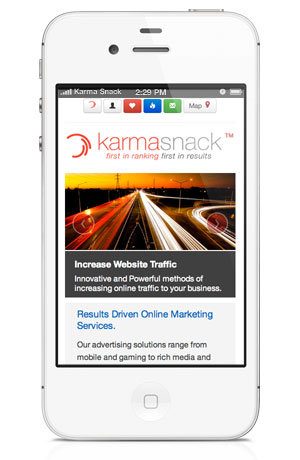 In this modern-day and age, people largely use their mobile phones and gadgets on a daily basis. In the past, these portable contraptions were solely used for communication, but with technology catching up to them, mobile phones now cater to internet browsing, video streaming, and shopping activities. For a business owner or manager, this fact should be taken into consideration when planning in regard to your future business expansion. Since a lot of consumers are now using the mobile platform to acquire their needs, it becomes logical and business-wise to streamline your operations towards this targeted audience through setting up a mobile website with mobile SEO.
So how do you create a Mobile Website?
One major element you should include in your efforts to make a mobile website is search engine optimization. Without conforming to the standard rules and paradigms set by Google, one cannot expect to create a mobile website that is promising and effective in compelling traffic into your business. Unfortunately, search engine optimization isn't something learned and masterfully executed overnight, much more if it is mobile SEO you need on integrating when you build a mobile website. Fortunately, employing SEO services from companies like Karma Snack can help you build a mobile website that is promising and effective.
Karma Snack is a well-known industry leader for mobile SEO services. Whether you're looking for help on how to make an iPhone app or set up digital marketing for your organization, Karma Snack employs highly skilled and experienced online marketers who can assist you towards your specific goals and objectives. Karma Snack renders six main services, and among those six, SEO services are their forte. When Karma Snack works on your project to make a mobile website, you can rest assured that your money is being placed in the right hands with a firm that has accrued years of work experience in the field of marketing and is composed of solid community business relationships and affiliations. Each affiliate of Karma Snack offers specific expertise and skillset to accommodate any marketing requirements you need. Such a competent workforce has resulted in a broader range of services delivered to the public.
So what's their take on SEO?
Karma Snack knows how important SEO is to any business, regardless of size and industry. To summarize and trim SEO utilities in more comprehensible and understandable terms, it is the process of attempting to place your mobile website or webpage on different search engines, most likely in Google and Yahoo which are the two giants and leaders in their respective field of service.
When managing the process of mobile or digital marketing, Karma Snack promotes several techniques, including pinging, RSS feeds, article and directory submissions, and site maps that aim to get the attention from various internet portals and search engines.
Aside from SEO, mobile website design is another element playing a contributing role in your mobile marketing ventures. Without professional and conforming mobile website design, your business won't be able to lift off the ground and start receiving valuable traffic. Overall, Karma Snack is your one-stop-shop for all your marketing needs, from how to make an iPhone app to social media, marketing consultation, digital advertising, and viral traffic and lead generation.